GSTN, the Goods and Services Tax Network, has recently launched a new app called the E-Invoice Verifier App. This app is designed to make it easier for taxpayers to verify e-invoices and related details.
The E-Invoice Verifier App comes with several key features and benefits that aim to enhance user experience and ensure reliable verification:
QR Code Verification: One of the app's standout features is the ability to scan the QR code on an e-invoice. By scanning the QR code, the app can authenticate the information embedded within it. This process helps to ensure the accuracy and authenticity of the e-invoice, giving you peace of mind.
User-Friendly Interface: The app is designed with a user-friendly interface, making it easy for you to navigate through its features and functionalities. The intuitive design ensures you can effortlessly access the app's various functions without any confusion or difficulty.
Comprehensive Coverage: The E-Invoice Verifier App supports the verification of e-invoices reported across all six Invoice Registration Portals (IRPs). This comprehensive coverage ensures you can conveniently verify e-invoices from various sources, saving time and effort.
Non-Login Based: When it comes to privacy and security, the E-Invoice Verifier App operates on a non-login basis. This means that you don't need to create an account or provide sensitive personal information to use the app. This approach simplifies the user experience and offers added convenience.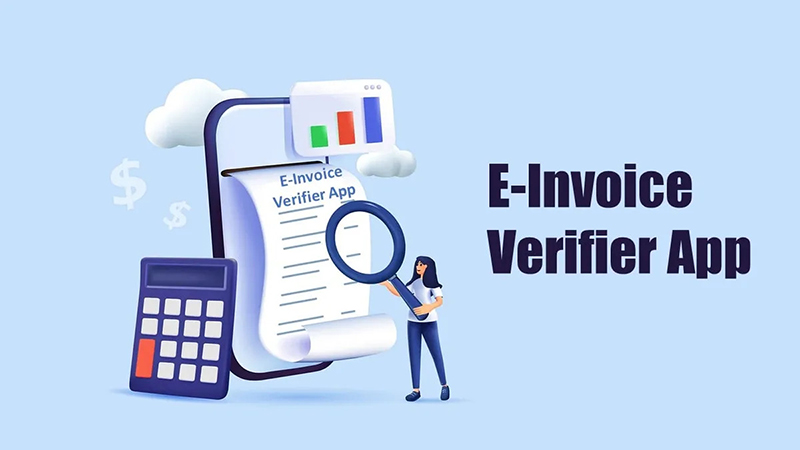 Using the E-Invoice Verifier App is a straightforward process that anyone can easily follow. Here's a step-by-step guide:
Download the App: To get started, visit the Google Play Store on your mobile device and search for "E-Invoice QR Code Verifier." The app is available for free, so you can download and install it without any additional cost. The iOS version of the app will also be made available in the near future, catering to a wider range of users.
QR Code Scanning: Once you have the app installed on your device, use it to scan the QR codes on your e-invoices. The app will then authenticate the information embedded within the code. You can compare this information with the details printed on the invoice to ensure accuracy.
It's important to note that the E-Invoice Verifier App does not require any user login or authentication process. You can freely scan QR codes and view the available information without any restrictions. If you have any questions or need additional guidance, the app provides comprehensive FAQs that address common queries and provide helpful information. These FAQs can be accessed within the app, offering you easy access to further assistance.
GSTN is already working on launching Version 2, which will introduce the Search IRN functionality. This upcoming update will further streamline your e-invoice verification process, ensuring even greater convenience and efficiency. The technology usage by GSTN is quite commendable and will help in streamlining process and bettering compliances.